The Easy-Glide Bearing Infantometer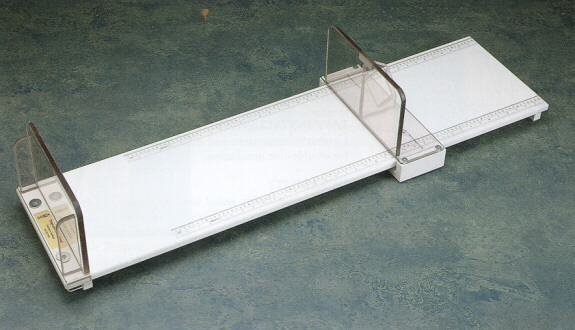 Model #PE-RILB-BRG2
SUPREME ACCURACY
Double bearing-mounted foot piece affords precise measurements. Fixed head piece and sliding foot piece are sturdy and maintain their perpendicularity with measuring surface, assuring precision year after year.
SMOOTH AND SILENT OPERATION
A marriage of state-of-the-art anodized aluminum and high lubricity plastic extrusions produce ultra-smooth and virtually silent bearing operation.
SPEED AND CONVENIENCE
"Read-Here" mark, offset on transparent foot piece, facilitates quick unobstructed reading prior to removing infant. Double calibration allows convenient reading from either side of infantometer.
DURABILITY
High quality, vinyl laminated board resists staining and holds up to harsh germicidal cleansers. Polycarbonate head and foot pieces are break-resistant. Simplistic bearing mechanism provides years of maintenance-free use.
SPECIFICATIONS
Model No.:
PE-RILB-BRG2
Measurement Range
(in):
(cm):

5 - 39
12.5 - 99
Accuracy
(in):
(mm):

1/16
1
Support Capacity
(lb):
(kg):

50
23
Length/Width/Height
(in):
(cm):

46 1/2 x 12 x 8 3/4
118 x 31 x 22
Weight
(lb):
(kg):

17
7.7
Finish
Clinical White
Custom lengths and ranges available
Optional: Guard Rail Set - Part #PE-RILB-BRG-GRS


Replacement Parts:

Stationary Head Piece
Part #PE-RILB--BRG-HD

Sliding Foot Piece
Part #PE-RILB-BRG-FT