The Standard Infantometer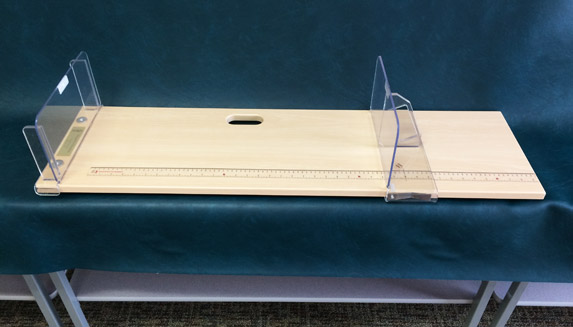 Model #PE-RILB-STND
RELIABLE ACCURACY
Fixed head piece and sliding foot piece are sturdy and maintain their perpendicularity with measuring surface, assuring repeatable and accurate measurements year after year.
SPEED AND EASE
"Read-Here" mark, offset on transparent foot piece, facilitates quick unobstructed reading prior to removing infant.
DURABILITY
High quality, vinyl laminated board resists staining and holds up to harsh germicidal cleansers. Polycarbonate head and foot pieces are impact-resistant.
OPTIONAL PORTABILITY
Integral carrying handle allows for instant portability and storage.
SPECIFICATIONS
Model No.:
PE-RILB-STND
Measurement Range
(in):
(cm):

5 - 39
12.5 - 99
Accuracy
(in):
(mm):

1/8
3
Support Capacity
(lb):
(kg):

150
68
Length/Width/Height
(in):
(cm):

43 1/2 x 12 x 8 3/4
110 x 31 x 22
Weight
(lb):
(kg):

15
6.8
Finish
Natural Maple
Custom lengths and ranges available
Optional: Guard Rail Set - Part #PE-RILB-STND-GRS


Replacement Parts:

Sliding Foot Piece
Part #PE-RILB-STND-FT

Stationary Head Piece
Part #PE-RILB-STND-HD